Cabinet of Ministers approves Roman Waschuk as new Business Ombudsman
09.12.2021
Today the Cabinet of Ministers approved the decision of the BOC Supervisory Board to appoint Roman Waschuk as the new Business Ombudsman in Ukraine. Mr Waschuk is taking over the position from Marcin Swiecicki, who became the Business Ombudsman in October 2019. The Business Ombudsman Council under his leadership considered over 4000 complaints from business. During his term, which ends on December 31, 2021, Mr Swiecicki signed three new Memoranda of cooperation with state bodies and established an effective instrument of promoting the BOC among the business community with a focus on practical instruments of interaction with state bodies and protection of legal business rights.
Since May 2015, the Business Ombudsman Council has processed over 10,300 appeals from entrepreneurs on malpractice of state bodies and helped businesses to recover over UAH 20 bn.
Roman Waschuk noted: "I'm keen to apply my familiarity with Ukraine and Ukrainians over the decades to the business issues of the here and now – and help to formulate sensible systemic solutions for the future."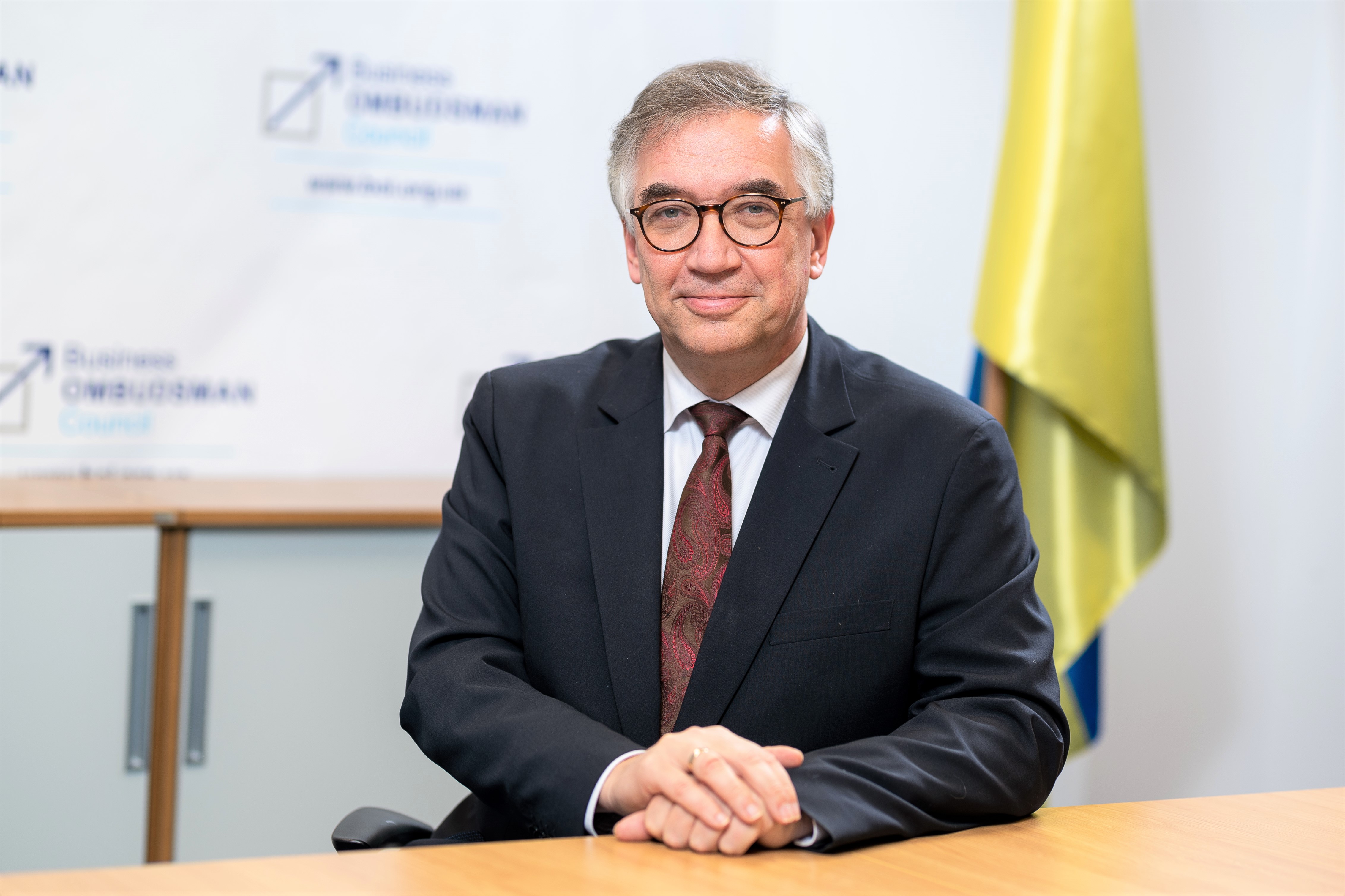 Roman Waschuk is a Canadian diplomat, Ambassador of Canada to Ukraine from 2014 to 2019. In 2011-2014, Mr Waschuk served as Ambassador to Serbia, the Republic of North Macedonia and Montenegro, facilitating the launch of a new business association there. From 1994 to 1998, he was Counsellor at the Canadian Embassy in Kyiv. He has also worked in Berlin and at Global Affairs Canada Headquarters in Ottawa. Mr Waschuk began his career in the Canadian diplomatic service in 1987.
Members of the Business Ombudsman Council's Supervisory Board welcomed Mr Waschuk in his new position and reiterated their willingness to develop cooperation with the institution.
Matteo Patrone, EBRD Managing Director for Eastern Europe and the Caucasus and the Chair of the Supervisory Board of the Business Ombudsman Council, said: "I welcome the appointment of Roman Waschuk as new Business Ombudsman and wish him best of luck in advancing the important work that goes into protecting entrepreneurs' rights from state officials' malpractice. My gratitude also goes to Marcin Swiecicki, who has been the Business Ombudsman since October 2019, for his major contribution towards greater transparency of business practices in Ukraine in the past years.
The EBRD, as the key backer of the institution, remains committed to helping to establish a transparent business environment and preventing corruption across state bodies and state-owned enterprises."
On the part of the Government, the appointment was commented by Iryna Novikova, Deputy Minister of Economy of Ukraine: "We congratulate Roman Waschuk on his appointment as the new Business Ombudsman We are looking forward to continuing effective cooperation with the Business Ombudsman Council and hope that our joint efforts will lead to improving the business climate in Ukraine."
Mr Waschuk will assume his new position in Kyiv on January 1, 2022.